Profile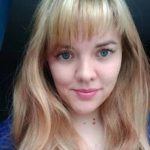 Rebecca Corkill
My CV
Education:

St Marys Catholic College (2003- 2010), Keele University (2010-2013), Liverpool School Of Tropical Medicine (2013-2014), University of East Anglia (2015-current)

Qualifications:

Bachelor of Science: Dual Honours in Human Biology and Forensic Science. Master of Science: Molecular Biology of Parasites and Disease Vectors.

Work History:

Tescos, Liverpool Tissue Bank.

Current Job:
About Me:

I relate too much to Bernadette from Big Bang theory.

Read more

I am originally from Wirral (near Liverpool). I moved to Keele (near Alton Towers) to complete my Bachelor's degree in Human Biology and Forensic Science. I moved back to Wirral to complete my Masters in Liverpool School of Tropical Medicine. I am currently living in Norwich and I am trying to complete a PhD.

I have 2 rats: Albus (After Dumbledore) and Darwin (After Charles Darwin).

I am a bit obsessed with Harry Potter (see rat name), musicals and Doctor Who.

Read more

Whiteflies are a dangerous insect to farming. They are like the mosquito of the plant world. Whiteflies can live on a large range of crops, they also transmit a lot of nasty viruses and damage the crop itself. Luckily whiteflies are not in the UK, although they will be eventually as they are in surrounding countries.

My job is to come up with methods to destroy the flies. My plan is to modify their genes, making them incapable of producing female offspring. The male offspring will survive and pass on this female killer gene to their offspring. This method will crash the population.

My Typical Day:

A lot of insect handling and killing.

Read more

Normally I get to my office desk and look/ answer emails.

Each day is normally different. I  can be working on the computer doing some analyse/ bioinfomatics on results I have got. I could be working in the lab creating plants which have knocked out genes. Or I could be in the insectary counting/ killing my whiteflies.

What I'd do with the prize money:

Help contribute to the public engagment programme in JIC.
My Interview

How would you describe yourself in 3 words?

tea-loving, bubbly, nerd

Were you ever in trouble at school?

I got sent out of class for talking to much.

Who is your favourite singer or band?

Beatles (I am from near Liverpool- I have to say it)

What's your favourite food?

Anything with Chorizo or pulled pork

If you had 3 wishes for yourself what would they be? - be honest!

1. I could do science with no care for where the next money/grant is coming in- so I can just focus on the science. 2. I could eat whatever I wanted and remain perfectly healthy and energetic (I have a big sweet tooth) 3. No people, whether that is now or in the future, will die from starvation or water depreveation.

Tell us a joke.

Two chemists go into a bar. The first one says "I think I'll have an H2O." The second one says "I think I'll have an H2O too" — and he died.
---
---
---